ASP NET Clean Architecture Parte 2 | Specification | Graphql 🚀
Diseno Avanzado Clean Architecture en ASP NET | pattern Specification | Refresh Token | Grahql | Seguridad NET
✅ Domina las bases del patron Specification
✅ Aprende Graphql y NET
✅ Accede a una comunidad de mas de 20 000 estudiantes
✅ CQRS (Command Query Responsibility Segregation) y Clean Architecture con Domain Driven Design(DDD)
Bienvenidos a NET Clean Architecture PARTE 2 - Pattern Specification | Refresh Token | Graphql
⚡MUY IMPORTANTE! -> Para llevar este curso es obligatorio haber llevado el curso Parte 1 de Clean Architecture.⚡
A continuacion te listamos algunos de los muchos temas que desarrollaremos en el curso:
✔ Entity Framework Core en version EF 6 y C# 10
✔ Bases del pattern Specification
✔ Implementacion de Pattern Specification con Entity Framework
✔ Consultas avanzadas utilizando Unit of Work y Generic Repository
✔ Creacion de interfaces con Graphql y NET
✔ Implementacion de architecturas NET con Graphql y ASP NET
✔ Desarrollo de arquitecturas con Design Principles - SOLID
✔ Manejo de Dependency Inversion Principles (DIP)
✔ Implementar Modelo Personalizado de Seguridad con ASP NET
✔ Refresh Token con ASP NET
✔ Separation of Concerns (SoC)
✔ Clean Architecture con Domain Driven Design(DDD)
✔ CQRS (Command Query Responsibility Segregation) Design Pattern
Que es Arquitectura de Software?
Se le llama al conjunto de patrones o buenas practicas agrupadas que sirven de referencia para guiar la construccion de un software, trabajando como un manual o ruta de labores donde los programadores, analistas, QA deben compartir la misma linea de trabajo y cumplir todos los objetivos y reglas de negocio de la aplicacion. Se considera como el mas alto nivel en el diseno por que integra la estructura, funcionamiento y comunicacion entre los diferentes componentes del software.
Puedes reconocer algunos ejemplos de arquitectura como MVC, SOA, Cliente-Servidor, etc.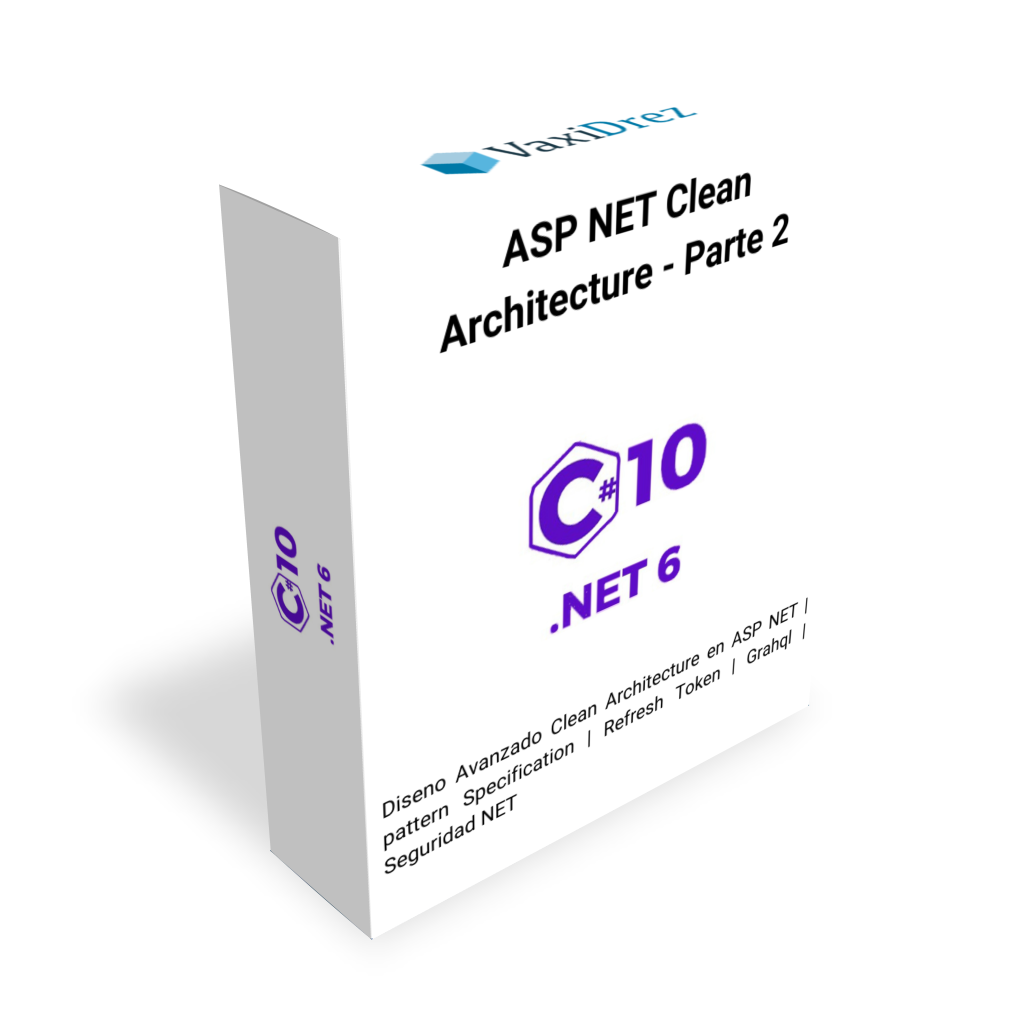 Con el paso del tiempo la complejidad de los sistemas informaticos ha ido en aumento, y esto ha dado paso a la creacion de una arquitectura mas limpia (Clean Architecture) que nos permita separar las responsabilidades mediante capas y definiendo reglas de dependencias entre ellas.
Estas son algunas caracteristicas de Clean Architecture:
✔ Independiente de la base de datos y frameworks
✔ Independiente de la capa de presentacion, en cualquier momento podemos cambiar la interfaz grafica de usuario sin necesidad de cambiar el resto de la app ni de la capa de negocios
✔ Altamente testeable, especialmente en la capa del Core Domain y de Business.
ASP NET Clean Architecture Parte 2
Precio Unico
$9.99


✔ Acceso de por vida


✔ Soporte de los instructores


✔ Ser un master en Clean Architecture mas avanzado


✔ Certificado al finalizar el curso


✔ Ser parte de la comunidad VaxiDrez


✔ Ser de los primeros en enterarse acerca de las nuevas promociones